about klsf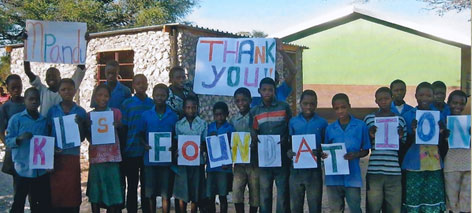 The Kristin Linnea Skvarla Foundation (KLSF)
supports individuals who strive to discover, explore and positively change our world, primarily in the areas of education and community development. Our objectives are to extend the reach of individuals who commit themselves to serving others, create educational opportunities particularly in underserved communities and advance projects that contribute to long-term development of communities. We encourage grant recipients to "pass on the gift" by planning for co-investment of human capital and sustainability in each of the projects we support.
Through the Foundation, Kristin's friends and family embrace the communities and organizations that she served in both rural and inner city America as well as in Namibia. Although we are missing Kristin, her spirit inspires us to seek the best in ourselves, to invest in the potential of individuals who positively change our world and to joyfully celebrate the gifts of the friendships she has left with us.
By the tenth anniversary of KLSF in 2010 over 60 scholarships which provide a full year's tuition, board and room and examination fees have been awarded to learners in grades nine through twelve at Saint Boniface College, Sambyu, Namibia. Six individuals from the Okavango area of Namibia have been awarded grants allowing them to pursue studies beyond high school. More than 25 projects identified and led by WorldTeach volunteers have provided schools and communities in Southern Africa and The Marshall Islands with seed money to enhance learning and quality of village life. Students from Chicago's west side, who attend Providence St. Mel School and the Camp of Dreams Program during the school year, receive scholarships to participate in summer enrichment activities which provide new windows on the world and inspiration for learning.
Members of KLSF Board of Directors include
friends of Kristin from Glenbrook South High School, Glenview, IL; Vanderbilt University; Providence St. Mel, a private K-12 school on the west side of Chicago known nationwide as a model for inner city education; and WorldTeach, a program of the Harvard University Center for International Development as well as family members.
Dana Bonkowski Chicago, IL
Meika Hilsman Columbus, GA
David F. Kirby New York, NY
Sanders Lowery Chicago, IL
Michael MacHarg San Francisco, CA
Lauren Ratner Washington, DC
Amy Sagues San Rafael, CA
Kai Skvarla Alexandria, VA
Sonja Skvarla Seattle, WA
Frans Victorson Cary, NC