developing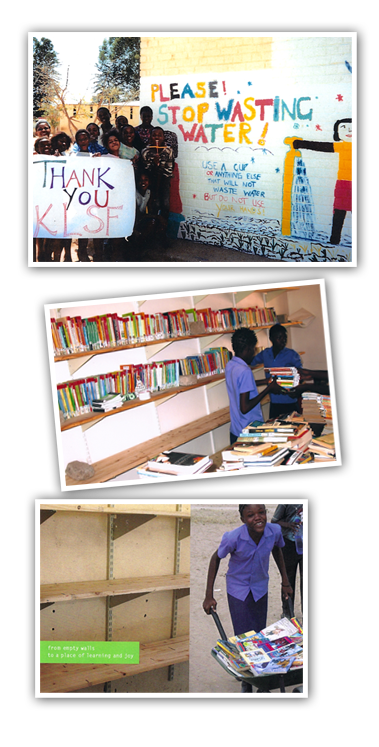 Contributing to Long-Term Development of Communities
Background
Kristin, supported by other like-minded socially conscious young people, invested heavily in working alongside individuals and communities facing distress.
As Kristin applied for a second year as WorldTeach volunteer at SBC she reflected on the charge given to new volunteers upon her arrival in Africa, to seek out opportunities for sustainable development in their communities. She decided that the "most sustainable project I can undertake is to develop an enthusiasm for learning in my school and community. I spend so much time," she wrote "trying to encourage my learners to think, to help them understand that they can empower themselves with knowledge and skills realized in the classroom. In a tiny corner of the world like Sambyu, the rewards of an education are not always obvious, but an ever-shrinking world makes them essential. I bring new ideas. My students offer fresh perspectives. Sustainable development is cultivating global citizens of the new millennium."
Purpose
Kristin's example inspires Sustainable Development grants which empower students to be the catalyst for lasting change.
Grant Highlight:

Waldfrieden Primary School
One WorldTeach volunteer secured a grant for Waldfrieden Primary School in Omaruru, which provided the means for students to paint permanent murals depicting how each person in their community can help to conserve Namibia's dwindling water supply. Students learned about drafting and carrying out a community action campaign as well as about the ecology of Namibia. The project focused on community activism from school-age children all the way to the leaders in the community.
Grant Highlight:

Omungwelume Primary and Secondary Schools
Another WorldTeach volunteer secured materials for library shelving at Omungwelume Primary and Secondary Schools and teachers and adults in the community supplied the labor, which completed the project.
Grant Highlight:

Room to Read at Phumalanga Primary School
KLSF has contributed to a project of the Vanderbilt Ingram Scholars to bring a Room to Read to the Phumalanga Primary School in the province of Mpumalanga, South Africa. A Room to Read is a library located within a school, started or expanded with books and learning materials and supported by three years of regular training for teachers and volunteers.
Grant Highlight:

Permanent Roofs for Kasivi Combined School Classrooms
At Kasivi studies were continually interrupted in the rainy season by aging grass roofs and deteriorating walls which could not provide protection from the elements and a productive learning environment for sixth graders. KLSF contributed to the construction of new classrooms with sturdy walls, roofs and much coveted doors.